NEEDLES
Most old needles are in the range of $10-$15 postpaid! See bottom of this page for more info.
Here at West-Tech we carry a large assortment (1000's) of needles for both the older record players as well as the new. We have the ceramic, magnetic and crystal types. We examine all needles under a microscope prior to sending them out. They are also tested on our high tech console tester record player unit.
We also supply the "bent shank 3 mil" osmium, sapphire and diamond needles for the old 78 RPM thumbscrew crystal cartridges. We also have the "bent shank 1 mil" for the 45 RPM. (See photos below; click left photo to enlarge it).
PLEASE NOTE: The prices listed on the sheet above are NOT reflective of West-Tech's current pricing.
ZENITH COBRAMATIC OSCILLATOR TYPE CARTRIDGE/NEEDLE
The Zenith needle/cartridge in red, green and red/green for the Zenith Cobramatic which utilize the oscillator tube to operate are almost extinct (See photo below under Power Points). In the event we cannot supply this special cartridge/needle, here at West-Tech we can install another ceramic cartridge with needle in your tonearm, bypass the oscillator section of the amp to bring it up to proper specifications. Email or call us about this service.
In case you don't know the correct needle for your cartridge, call or email the name of your unit and model number. In some cases you may have to send in your cartridge to have us install the proper needle. (Click on the Needle thumbnails below.)
Enjoy your tour of our needle page and let us know if we can be of assistance. Gib & Linda
Hints on Needle Life
How long will a phonograph needle last and how will I know when it is worn out? Unfortunately, when you can hear that the needle is worn (a hissing sound from the record) or see shavings on the record, it is already too late - the damage has been done. An easy way to determine needle wear is to keep track of approximate hours the needle has been in use. When gauging the length of time a needle will last, many variable must be taken into account. Things like the tone arm weight, record condition, dust in the air, whether a monaural or stereo needle is being used and tip material of the needle all contribute to needle life. If the above conditions are controlled, you may expect the following hours of play from your needle:

| | |
| --- | --- |
| Tips Material | Approximate Safe Hours of Play |
| Precious Metal | 10 hours |
| Synthetic Sapphire (Monaural) | 50 hours |
| Synthetic Sapphire (Stereo) | 30 hours |
| Natural Diamond (Monaural) | 800 hours |
| Natural Diamond (Stereo) | 500 hours |
WHY YOU MUST REPLACE YOUR PHONOGRAPH NEEDLE
Limit of Use of These Needle Materials:
DIAMOND - 400 to 600 hrs. SAPPHIRE - 40 to 60 hrs.
| | | | |
| --- | --- | --- | --- |
| | SIDE VIEW | CROSS SECTION | TOP VIEW |
| NEW NEEDLE IN GROOVE | | | |
| | Small Contact Area - Ball-Point Fit. | Needle Rides on Side Walls. | Good response, follows groove curvatures. |
| SLIGHTLY WORN BUT USABLE | | | |
| | Wear area reduces sensitivity. | Needle sinks lower in groove. | Slight loss of high frequencies. |
NEEDLE WORN BEYOND THIS LIMIT MUST BE REPLACED
| | | | |
| --- | --- | --- | --- |
| WORN NEEDLE | | | |
| | Wear flats enlarged. Poor response to moving groove walls. | Groove damage caused by sharp edges. Noise level rises. | Noticeable restriction of sound frequency range. |
| BADLY WORN NEEDLE | | | |
| | Large wear flats choke groove space, hampers vibrations. | Chisel-shape needle cuts groove, ruins record. | Distortion is caused by bridging of sound curvatures. |
It's a fact - a quality stylus tip makes the music.
The most important part of the sound reproduction system is the stylus tip assembly. The four major causes of record wear by a phonograph stylus are: Stylus Force, Effective Tip Mass, Stylus Tip Shape and Stylus Tip Polish.
TIP POLISH: Better polish means less record wear, smoother music and longer tip life.
TIP MASS: Light weight materials employed at the tip and the cantilever results in reduced effective tip mass.
STYLUS FORCE: The greater the tracking force, the greater the record and needle wear.
TIP SHAPE: A Shibata style tip is best for stereo or quad reproduction as its expanded contact area reduces the force and friction at the record groove. This provides a double plus: longer tip life and longer record life. An elliptical or biradial tip follows the undulations and contours of the record groove extremely well and is slightly more expensive than spherical.
Spherical is the original tip developed to play back records and is still widely used today in less costlier sound systems.
HOW TO REMOVE AND REPLACE NEEDLES
MOST POPULAR TYPES
(1) SCREW MOUNTED:
To remove old needle, loosen screw near base of needle and remove needle. To install new needle, line up needle with hole or open end in position so that screw may be tightened.
(2) CRANK TYPE:
There are two groups of crank type needles. One group is removed by grasping needle by "crank" or handle and pulling out of cartridge. They are replaced by holding "crank" and pressing back into place. The second group is held in place by a spring or clip. This spring must be lifted slightly, then grasp needle by crank and remove. To replace, again lift retaining spring slightly, hold needle by crank and place needle in position. Be sure that needle arm (front part) is centered and resting on small forked post.
(3) SNAP-ON:
To remove, insert fingernail or knife point under clip of needle and lift out.
To replace, press or snap needle into place, making certain that front part of needle is properly engaged in forked post or yoke.
(4) SLIDE-IN:
To remove, slide needle forward out of cartridge using fingernail or tip of knife.
To replace, just slide needle in position making certian that it is gently pressed into position and centered in cartridge.
(5) PLUG-IN:
The plug-in and power-point type is an integrated unit comprising both needle and cartridge which cannot be separated.
To remove, grasp cartridge by head or projections on side and pull forward.
To replace, hold cartridge by head between thumb and forefinger and line up cartridge in proper position with socket in pick-up arm. Avoid touching stylus tips as this will damage cartridge. Push gently but firmly into socket. If the cartridge won't move in, then you have not placed it in correct position. Check to be certain that ridge on cartridge lines up with keyway in socket.
(6) PUSH-UP:
To remove, place tip of knife blade under exposed portion of needle and lift out.
To replace, position needle to approximate playing position and push into socket. Be certain that needle is completely seated into socket.
CAUTION!
Never grasp a needle of any type by the stylus tips or the stylus end of the needle assembly. This section is very delicate and the needle will be damaged or bent if care is not exercised.
COMMON, POPULAR & AVAILABLE STYLI
Click a thumbnail to view picture full size.
Older type needles West-Tech specializes in are readily available in point sizes and material--sapphire, osmium or diamond.

TIP SIZES USAGE

Diamond, Sapphire and Osmium stereo and monaural needles come in different tip sizes for optimum play of the different type records as indicated in the chart to the right.

1 - .001 or 1 mil tip for 16,33 and 45 RPM
2 - .002 or 2 mil compromise tip for all Monaural
25 - .0025 or 2.5 mil tip for transcription and 78 RPM
3 - .003 or 3 mil tip for 78 RPM
5 - .0005 or .5 mil tip for stereo 33 and 45 RPM
6 - .0006 or .6 mil tip for stereo 33 and 45 RPM
7 - .0007 or .7 mil tip for stereo and mono 33 and 45 RPM
PLEASE NOTE: The prices listed on the eight sheets below are NOT reflective of West-Tech's current pricing.
Click a thumbnail to view picture full size.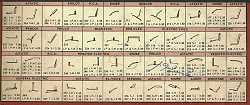 Examples of West-Tech's cross reference guides to supply optimum needles for the best sound are shown below. Note on these pages reference to the cartridge number and needles to be used in each, variety of needle materials and tip sizes(mils). Some cartridges require two needles of the same number, just different point size (mil).
Click a thumbnail to view picture full size.

POWER POINTS
Often mistaken as stylus, these are actually cartridges with stylus. We do carry in stock a complete line of popular power point/plug in cartridges for older sets. These units are tested and guaranteed. If you have problems identifying your cartridge, you can double check by also comparing the plug-in socket diagram to the right of the cartridge diagram.
Click the thumbnail below to view picture full size.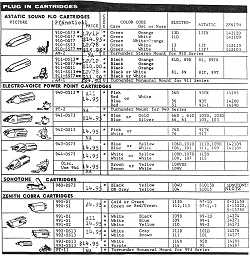 NEEDLE/STYLUS PRICING
Most needles from the 30's to the 60's for the old players are $10-$15 postpaid. Other needles such as the Pro-Mag, magnetic and higher tech are $15- $20 postpaid, with exceptions for other special needles; contact us for more information. Make checks or money orders out to: West-Tech. Contact us on a quantity purchase.
Feel free to telephone West-Tech, or email us by clicking here with any questions concerning your needle problems.